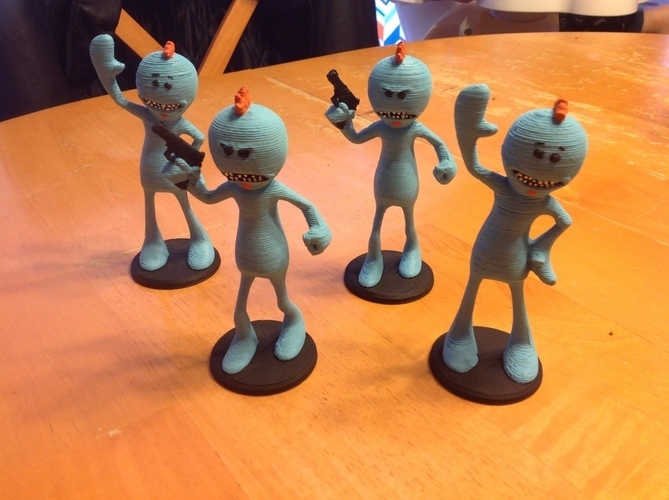 Mr. Meeseeks - New & Old - RICK AND MORTY
Pinshape
Summary First off, I did not make these models. They were made by 3dprintguy (http://www.3dprintguy.co/). I was looking for a better Rick model and found his website by accident. His models appear to have been designed for resin printing. They were hollow and had a large opening on their bottoms. I added a base and closed the gap on the backside. My printer does not handle models like these well, so I made the support version for keeping everything in place. I tried printing these originally at about 80mm tall, but the legs were so thin they snapped during printing. The above models are 125mm tall, plus the base. I don't have any rights to these models or anything Rick and Morty related. I'm just a fan and wanted to post these for those who wouldn't find 3dprintguy's models on their own.
Download Model from Website
With this file you will be able to print Mr. Meeseeks - New & Old - RICK AND MORTY with your 3D printer. Click on the button and save the file on your computer to work, edit or customize your design. You can also find more 3D designs for printers on Mr. Meeseeks - New & Old - RICK AND MORTY.